Investment planning
Everyone needs to save for a rainy day. Once you have saved enough to take care of emergencies, you should start thinking about investing and to make your money grow. We can help you plan your investments so that you can reap adequate benefits and achieve your financial goals.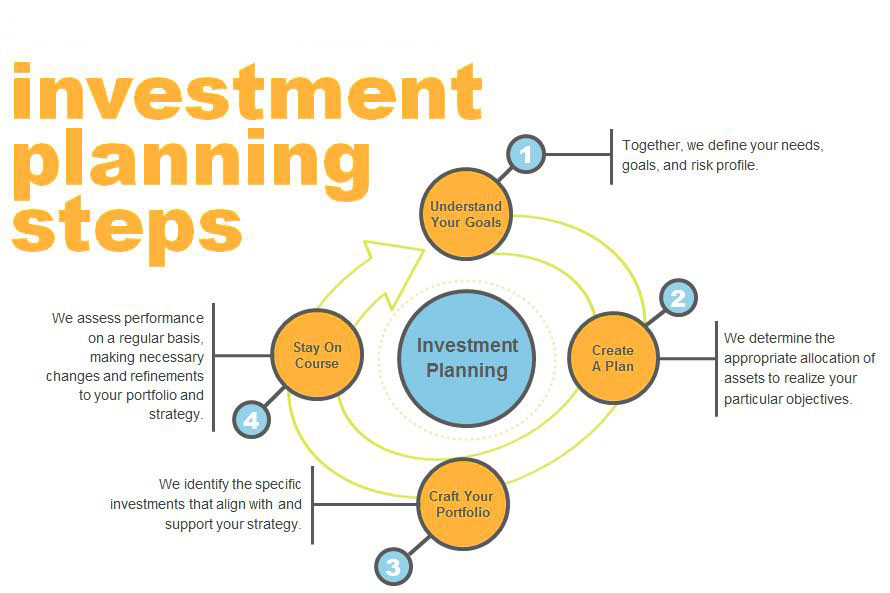 Retirement Planning
Our approach is to act as your "Chief Financial Officer" as we build a process around your specific objectives. Through our team approach, our advisors leverage the extensive resources of the firm to implement custom solutions, and we work directly with other professionals, such as your Accountants, Trustees and Lawyers to ensure every aspect of your financial future is well cared.
Our retirement planning process incorporates in six steps
1. Initial Meeting/Discovery We begin each relationship with a discovery process that is designed to help us gain a better understanding of your specific needs and objectives. At this initial meeting, we discuss your current financial situation, your specific goals and any challenges you may face as you work toward those goals.
2. Establish Goals and Gather Records Once we have gained an understanding of your current financial landscape, our next step is to help you articulate your goals and priorities. While some clients come to us with very specific goals in mind, others have a more abstract idea of their objectives. Because our wealth solutions are designed with your specific goals in mind, we strive to help you identify exactly what those goals are.It is also during this stage that we begin to gather relevant records, account numbers, etc. so that we may begin the process of transferring any necessary accounts.
3. Prepare your Comprehensive Retirement Plan During this step, your wealth advisory team collaborates with subject matter experts throughout the firm to review your existing legal documents, insurance policies and portfolio holdings. Together, they identify what is currently working, as well as opportunities for improvement. As your "chief financial officer," we build a financial plan that is tailored to your current situation and focused on achieving your goals.
4. Present Recommendations At this stage of the planning process, we present our specific recommendations on how to improve your portfolio. We discuss with you the potential impact of any changes and how we believe our recommendations will help you achieve your goals.
5. Implement your Retirement Plan Once we agree upon a course of action, we seamlessly integrate all aspects of the financial plan. Because we have already developed an understanding of your objectives, your current situation and your existing accounts, we will likely be able to implement your plan with little input from you.
6. Review, Update and Monitor the Plan Because your needs and objectives change over time, we continuously review, update and monitor your plan. We touch base with you on a regular basis to discuss any changes that may impact your plan, and we proactively make changes to help ensure your plan continues to help you achieve your objectives.
Financial Planning
Financial Planning is an ongoing process which helps you make prudent decisions about your money in order to achieve your specific goals in life.
Financial Planning is simply your list of short and long-term goals that are important to you, with a strategy of how you're going to use your money and other assets to achieve those goals. It might involve designing your saving or investing strategy, creating a will to protect your family, or insuring how your family will manage without your income should you die prematurely.
Ultimately it involves thinking about all of these areas together in order to arrive at your personalized financial plan. At Morpheus Wealth Management, we help our clients create personalized financial plans and strategies to achieve their specific goals and objectives.
We emphasize finding a way in which our clients can most easily achieve their specific goals while still maintaining their current lifestyle and enjoying the things that matter most to them. However, knowing how much to save to meet your goals is just one part of a much bigger journey.
You also need to examine areas such as how to optimize your financial and investment assets, minimize your taxes, and ensure those who mean the most to you are well looked after.